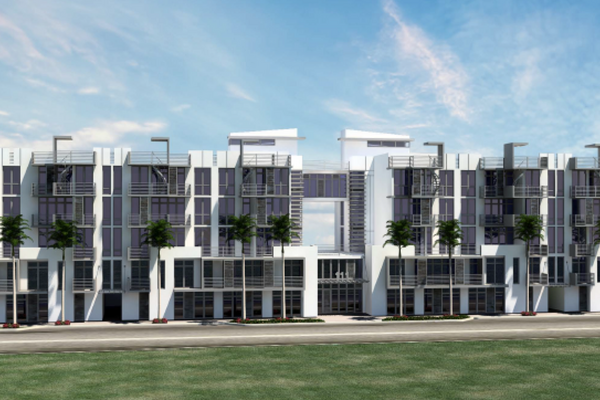 Downtown Delray Beach has attracted the attention of foreign investors as a Colombian-led group purchased a condominium development site.
Jim Knight, of Delray Beach-based Knight Group, represented seller SW Delray One, managed by Joseph E. White and Maya Saxena, in the $9.03 million deal for the 1.12-acre site on the east side of Southeast First Avenue just south of Southeast First Street. The price works out to $185 per square foot for the land. It was a big premium over the $1.1 million they paid for the property in 2011.
Knight said the pricing has raised the bar for what a development-ready site will trade for in downtown Delray Beach. The area already has some of the highest retail rental rates in South Florida and about $750 million in commercial and residential projects are planned there. Many of them are in the south of Atlantic Avenue (SofA) area where this project is located.
The recently sold site was approved in 2014 for 76 loft units and 2,250 square feet of retail. The buyer was SOFA I LLC, headed by Felipe Vergara and father Manuel Vergara. Felipe Vergara said his family has over 35 years of development experience in Colombia and they've lived in Boca Raton for 12 years. They got additional Colombian investors and a few local investors in on the deal, he said.
"We have been going to Delray for a very long time and we've seen the revolution that has been going on there south of Atlantic with new rental projects and with the iPic going up," Vergara said. "People want the walkability they have in Las Olas or Miami. We have been seeing buyers turn to Delray as an alternative to those other two areas because it's not as congested and you can walk or eat not he street and also live and work there."
Vergara is still working on the branding and the pricing of the project. While the typical condo deposit structure in Miami is a 50 percent deposit, he said his Delray Beach project would require significantly less than that because it will cater more to domestic buyers, he said.
"We will probably do something closer to 30 percent," Vergara said. "We are going to count on a loan from the bank to help us manage construction and the cash flow."
He hopes to break ground in late 2015.
Brian Bandell  Senior Reporter- South Florida Business Journal